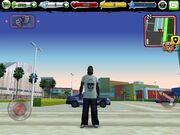 The main character that the player controls ingame is a male African-American gangster. The player's name is not mentioned and the name of the gang he is involved with is also not given, though friendly gang members during missions were identified as the pedestrian wearing a red shirt with shades along with a top hat. Enemy gangsters during missions were the ones who were shirtless and had a handkerchief tied around their mouths (in the versions before IOS 7, it was vice versa).
Appearance
The player resembles a black African-American man in his 20s or 30s. The player wears a white shirt with a skull logo in the middle and dark blue jeans with plain white shoes. He sports a dreadlocks hairstyle and a small moustache and goatee. The player has an aggressive expression that doesn't change throughout the game, even when he is talking.
Behavior
The player has stats of 1000 health units, (5, 6, 7, 8, 9, or 10) units of energy and any number of cash and diamonds, depending on how the player spends.
The player is capable of walking, running, fighting with pedestrians, cops or rival gangsters, swimming and climbing over low walls or fences.
The player's movement while on his feet are controlled by the left joystick ( running can be activated when the small button on the right is pressed and held ). Melee attacks and firing weapons are controlled by the button which has a gun on it.
Vehicles that are unlocked by the player can be entered by tapping the vehicle entry button when he is near one.