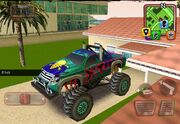 The Monster Truck is a vehicle that cannot be unlocked by leveling up, it needs to be bought to unlock it, for 10 Diamonds. If bought or won at the daily bonus, it costs $10,000 to make the vehicle appear nearby.
Attributes
It has a health of 2000, the second most largest health for a vehicle (excluding the Territory Boss Car).
Ad blocker interference detected!
Wikia is a free-to-use site that makes money from advertising. We have a modified experience for viewers using ad blockers

Wikia is not accessible if you've made further modifications. Remove the custom ad blocker rule(s) and the page will load as expected.